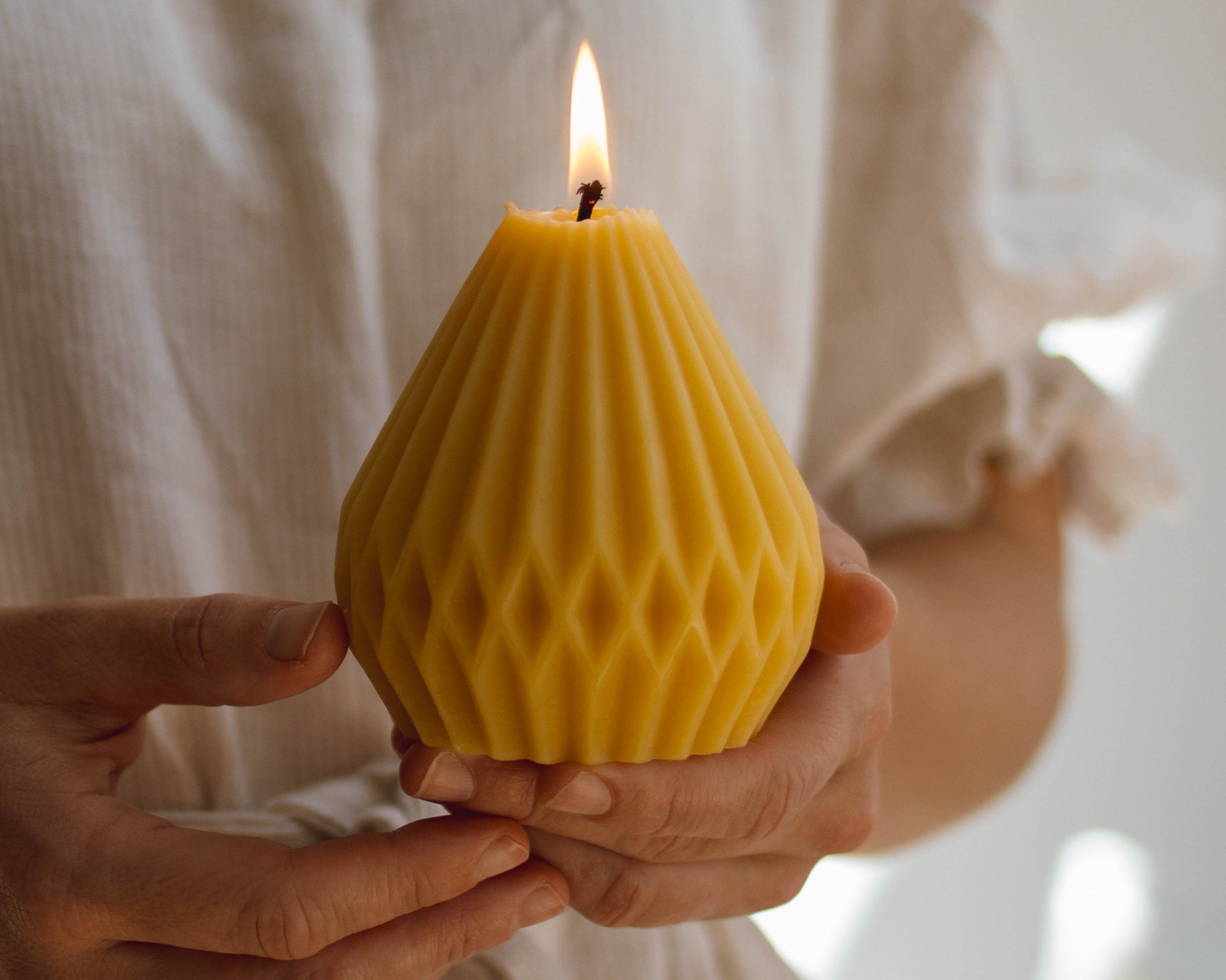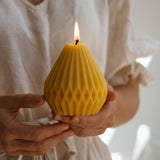 Artisan Beeswax Pear Candle
Description

Composition

Packaging
Allow us to introduce you to something truly special: our new sculptural pear-shaped candle. The gentle glow of our sculptural beeswax candle not only illuminates the space but also adds a touch of soulful artistry to your home. Our artisan beeswax candles are lovingly made in our family workshop.
Each candle comes packaged in a cotton bag, the bag is decorated with a botanical print, a work of an independent Irish illustrator.  
Burn Time: 30 hours
Packaged in a GOTS Certified Organic Cotton Gift Bag
Beeswax candles hold a special place in history, with their use as a source of light dating back thousands of years. 

Our candles, crafted from pure beeswax, are not only eco-friendly and renewable but also emit a brilliant, white light in the same spectrum as sunlight. What's more, they carry a natural, delicate honey fragrance, adding to their charm. 

Additionally, beeswax candles are also known for their hypo-allergenic qualities, providing a comfortable option for those with asthma or allergies who often find fewer sensitivities when using them.
100% Organic Beeswax & Cotton Wick
H 7.7 cm x W 6.5 cm
Delicately presented in a GOTS Certified Organic Cotton Gift Bag.
---
Free shipping on orders over £50
Artisan Beeswax Pear Candle
Sustainability
Natural Materials
We extend our commitment to the environment beyond the ingredients & materials used in our products. Our packaging is free from elemental chlorine and is consciously designed to be either made from recycled materials or be recyclable, reusable, biodegradable, or compostable.
Zero Waste
Low Impact
Low impact products minimise environmental impact throughout their lifecycle with sustainable materials, energy-efficient production, and waste reduction. They promote responsible consumption, durability, and easy recycling.