'Leave the road, take the trails.` — Pythagoras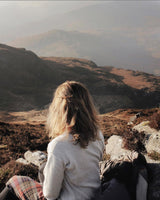 About
Goldrick is a slow living collection of natural, ethical and mindfully designed home and lifestyle products.
Every product carries their own story, they have marks of their makers and characteristics of the material used. We collaborate with independent makers from around the world to create beautiful, sustainable and timeless pieces. 
 Eileen  - Founder of Goldrick
'The mark of all good art is not that the thing done is done exactly or finely, for machinery may do as much, but that it is worked out with the head and the workman's heart'.
– Oscar Wilde
From our Customers
Great product, great quality, great service! These balls have really cut down my drying time saving me time and money. Laundry is really soft with very little/if any ironing needed after using these 😁 I have read some reviews complaining of a smell left on the laundry after use but I have not had this issue also no issues with lint left on black clothing even after first use.

Lisa Davies
After watching war on plastic , I decided to give these a try , and I'm glad I did . They are much better quality than the normal plastic rubbish I was using. I will definitely be buying these in future

John Stringer
BUY THIS CANDLE. This has to be the most beautiful beeswax candle I've ever owned. I absolutely adore it. It burns wonderful, I was a bit concerned with the price, but wow, you just have to pay for the craftsmanship/quality/sustainability. Truly adore this product, will be purchasing the bigger candles in the future. Thank you for making such a wonderful product.

Maddie
Fab product! Am delighted with my new Wool Dryer Balls. Not only do they work well they are also ethically produced which is an added bonus.

Brigit Peacock
I bought these to use over Christmas in lots of tea light holders but wanted natural non toxic candles and so my research led me to Goldricks. These clean the air due to them being natural beeswax, have lead free wicks and had a really nice burn & glow. So nice to buy from this company who make natural items, support our bees as well as caring for my own health. I highly recommend and will definitely BEE buying more!

Sarah
Really beautiful candles, beautifully packaged, which is wonderful because they are a present. Can't wait to get some for myself!

C A Cozens