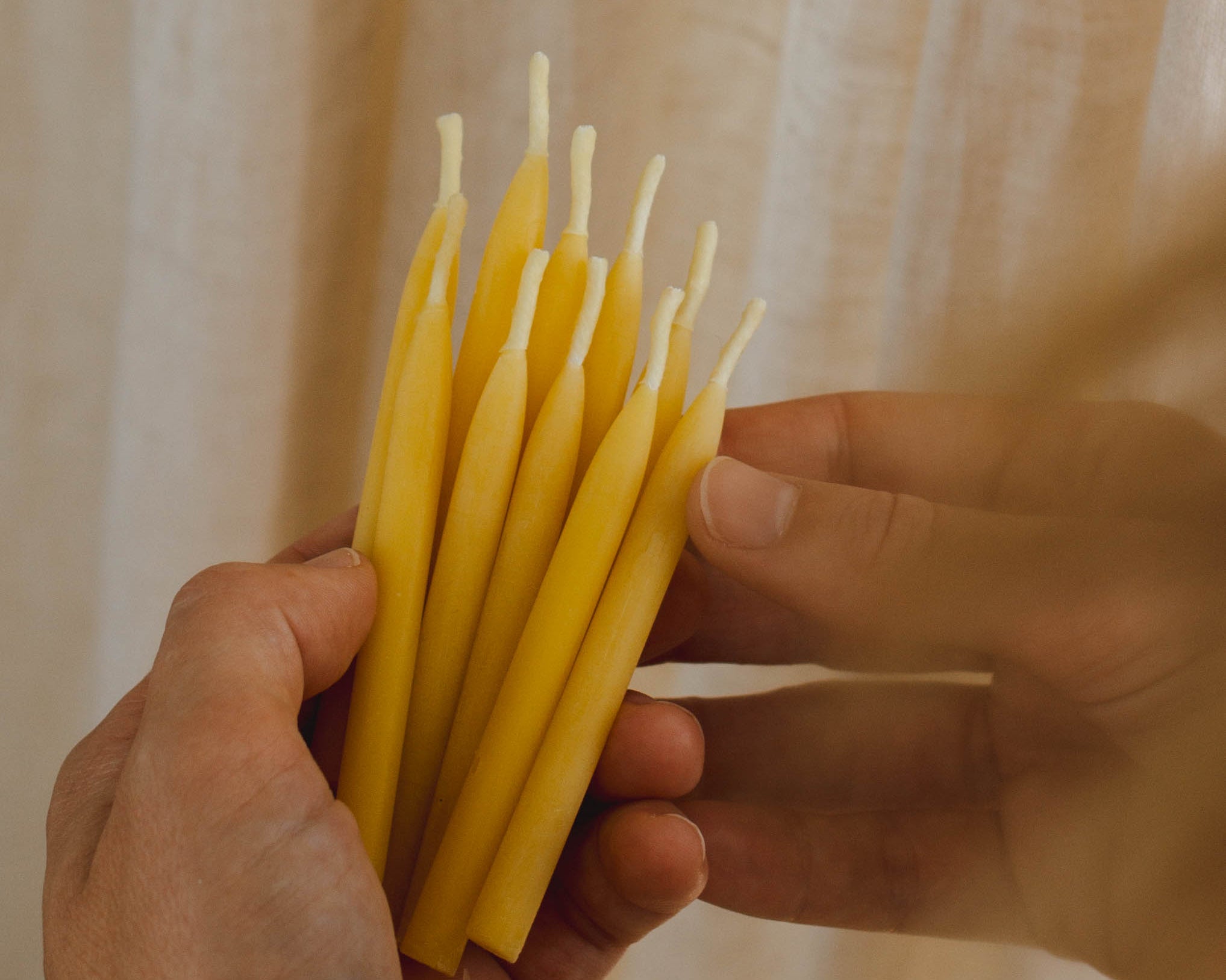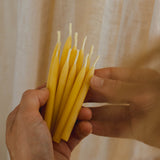 Beeswax Birthday Candles | Set of 10 Candles
Description

Composition

Packaging
Mark a meaningful milestone as you celebrate your birthday with our exquisite petite birthday candles. They look adorable and they are completely natural. We pour each candle ourselves and package them in a cute little organic cotton bag.
By choosing our candles, you're not only adding warmth to your celebrations but also contributing to the livelihood of small-scale beekeepers and their essential honeybees. Your choice resonates with the noble endeavor of sustaining the ancient tradition of beekeeping, fostering a harmonious relationship between nature and human ingenuity.
Ingredients: 100% Pure Organic Beeswax & Pure Cotton Wick
Burn Time: 30 Minutes per candle
Set of 10
Size Large: H 7.5

 cm x W 1 cm
What makes Beeswax candles so special:
- The use of beeswax as a light source goes back thousands of years.
-Candles made from pure beeswax are a renewable resource. And they produce a bright, white light (in the same spectrum as sunlight).
- A natural subtle honey fragrance will be present from a natural beeswax candle.
-Beeswax candles are also known for being hypo-allergenic. People with asthma or allergies report fewer problems with beeswax candles.

Beeswax candles hold a special place in history, with their use as a source of light dating back thousands of years. 

Our candles, crafted from pure beeswax, are not only eco-friendly and renewable but also emit a brilliant, white light in the same spectrum as sunlight. What's more, they carry a natural, delicate honey fragrance, adding to their charm. 

Additionally, beeswax candles are also known for their hypo-allergenic qualities, providing a comfortable option for those with asthma or allergies who often find fewer sensitivities when using them.
100% Pure Organic Beeswax & Cotton Wick

H 7.5 cm x W 1 cm
Delicately presented in a GOTS Certified Organic Cotton Gift Bag.
---
Free shipping on orders over £50
Beeswax Birthday Candles | Set of 10 Candles
Sustainability
Natural Materials
We extend our commitment to the environment beyond the ingredients & materials used in our products. Our packaging is free from elemental chlorine and is consciously designed to be either made from recycled materials or be recyclable, reusable, biodegradable, or compostable.
Zero Waste
Low Impact
Low impact products minimise environmental impact throughout their lifecycle with sustainable materials, energy-efficient production, and waste reduction. They promote responsible consumption, durability, and easy recycling.