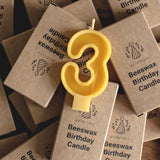 Description

Composition

Alternative To

Packaging
Occasions we ought to remember—be it a year in a job, a year in partnership, or your loved ones birthday. Celebrate your special day with our number-shaped birthday candles. Adorable and all-natural, they're hand-poured and presented in a charming little kraft box.
Beeswax candles hold a special place in history, with their use as a source of light dating back thousands of years. 

Our candles, crafted from pure beeswax, are not only eco-friendly and renewable but also emit a brilliant, white light in the same spectrum as sunlight. What's more, they carry a natural, delicate honey fragrance, adding to their charm. 

Additionally, beeswax candles are also known for their hypo-allergenic qualities, providing a comfortable option for those with asthma or allergies who often find fewer sensitivities when using them.
100% Organic Beeswax & Cotton Wick, Burn Time: 20 Minutes

W 10mm x H 70mm approximately

These beeswax candles are a natural and eco-friendly alternative to paraffin and soy candles. Paraffin candles often contain harmful chemicals, while soy candles can pose environmental concerns due to the pesticides used in soybean cultivation.
---
Free shipping on orders over £50
Sustainability
Natural Materials
We extend our commitment to the environment beyond the ingredients & materials used in our products. Our packaging is free from elemental chlorine and is consciously designed to be either made from recycled materials or be recyclable, reusable, biodegradable, or compostable.
Zero Waste
Low Impact
Low impact products minimise environmental impact throughout their lifecycle with sustainable materials, energy-efficient production, and waste reduction. They promote responsible consumption, durability, and easy recycling.