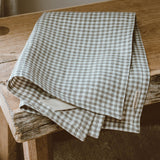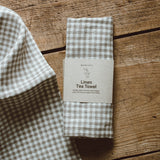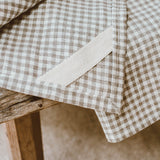 Linen Tea Towel | Handmade
Introducing our exquisite handmade linen tea towel, a perfect blend of elegance and functionality. Crafted with care and attention to detail, this tea towel is made from premium quality linen fabric, renowned for its durability and absorbency.
The charming gingham check pattern adds a delightful touch, bringing a classic yet modern aesthetic to your kitchen. 
Handmade in England
Size: 58cm x 38cm
---
Free shipping on orders over £50
Linen Tea Towel | Handmade
Sustainability
Natural Materials
We extend our commitment to the environment beyond the ingredients & materials used in our products. Our packaging is free from elemental chlorine and is consciously designed to be either made from recycled materials or be recyclable, reusable, biodegradable, or compostable.
Zero Waste
Low Impact
Low impact products minimise environmental impact throughout their lifecycle with sustainable materials, energy-efficient production, and waste reduction. They promote responsible consumption, durability, and easy recycling.